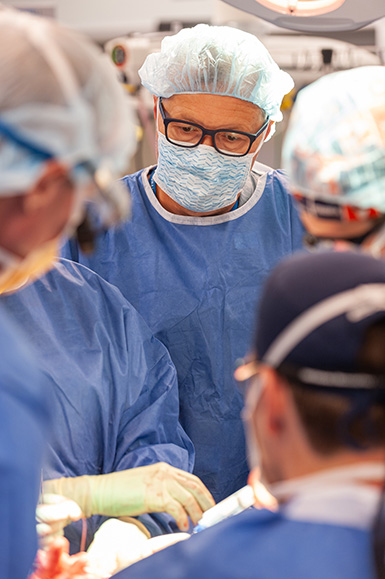 "We never exclude anyone, and that's related to color of skin, ethnicity, language, any of that," said Pomahac, a soft-spoken Czech Republic native known simply as Bo, who has been at the Brigham since 1996.
There had been some initial concern raised by a team member over social support for Chelsea, who was living with his sister and has an adult daughter living on her own.

"He mobilized a pretty broad range and large number of friends from his church network," says Pomahac. "He literally had a letter from, I think, 25, 30 people that just said, 'We are here to support him; we're here to help him. We're going to make it work for him.'"
Only 17 percent of Black patients awaiting an organ transplant in 2015 received one compared to 30 percent for white patients.
"It was amazing to see that he had an entire community behind him. It was one of the things that I don't think we've ever seen in any other patient."
Nevertheless, a question arose after Chelsea was listed for a transplant in March 2018. The initial treatment plan had been for a partial transplant—it would have taken less time and posed fewer potential medical complications.
"The philosophy of our program has always been: Let's not destroy anything that's working," Pomahac says. "Let's just implement or integrate what's missing."
But Chelsea's face resembled a mosaic, with freshly healed wounds largely without pigment and with areas from earlier surgeries brown with freckles. A full facial transplant seemed a more aesthetic alternative. The aesthetic question was brought home when the team received word of a possible donor—with a lighter complexion. Chelsea opted to wait.
"What we didn't quite appreciate was how much variability there is among African American skin tones. He would get the function, but he wouldn't really look like himself," says Pomahac. "The fact that Robert rejected that offer was a good sign in my mind because he wasn't just rushing to get something done, but he really was thoughtful about it." Last July, the right opportunity came his way, from a donor in New Jersey. Chelsea caught the first flight from California while the team worked with LifeNet Health to rush the donor face to Boston.
While it is still too early to evaluate the ultimate success of Chelsea's operation, data from a follow-up study of face transplant recipient outcomes offer some guidance. A recently published correspondence in the New England Journal of Medicine found that the first Brigham facial transplant patients experienced robust return of motor and sensory function of their face, in addition to functionality, which allowed them to socially reintegrate in a way that would not have been possible before the transplant.
These data indicate that Chelsea is likely to achieve near normal sensation and about 60 percent restoration of facial motor function within a year, including the ability to eat, smile, and speak normally.
The success of facial transplants has allowed the option to be added to the list of possible procedures, although it remains separately managed from more traditional organ donations.
A more significant challenge is the cost, which has been grant funded to date and slow to win insurance reimbursement.
Pomahac trained as a surgeon and stays away from non-medical discussions. But he acknowledges there is a history of widespread distrust of the medical system among African Americans. This distrust has influenced African Americans to not register as organ donors in the U.S. Only 17 percent of black patients awaiting an organ transplant in 2015 received one compared to 30 percent for white patients.
"Absolutely, I think we should really ask the hard questions," he says. "Why are we not seeing more African American patients? Why are they disproportionately less common donors? All these issues are really relevant and probably go way back into the history.
"Coming from a Central European country, it never was anything that I would experience or be exposed to. But there are things that are living on from the past that we just have to break down little by little."

Photo credit: Lightchaser Photography / J. Kiely Jr.