Foot injury triggers a cycle of surgeries and painkillers
As a teen, Morgan was ranked as a top-20 American freestyle swimmer. But in 2013, she sustained a minor foot injury: a broken sesamoid bone in her big left toe. It was the beginning of a years-long cycle of pain, surgeries, and painkillers.
Morgan swam for three years following the injury. During her freshman year of college in 2016, the pain worsened. Doctors removed a second broken sesamoid bone, but relief never came. The only remaining treatment option was prescription pain medication.
Morgan's pain was constant. Her life had changed so much—the once active athlete now needed a scooter to travel around campus. Morgan worried about opioid addiction, overdose, and side effects. Painkillers dulled her once upbeat personality and made it difficult to focus on homework and exams.
A turning point: Cutting-edge Ewing amputation offers hope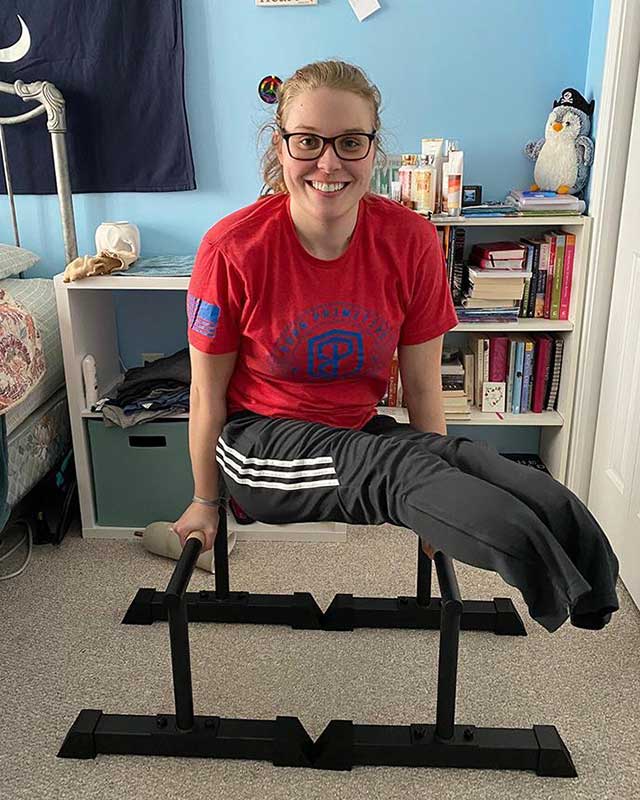 Morgan developed a staph infection in her injured foot in 2017. Desperate to end her medical setbacks and pain, she researched amputation options and learned about the novel Ewing procedure. In 2018, at age 20, she made the difficult decision to have this below-the-knee leg amputation, offered by Dr. Carty at Brigham and Women's Faulkner Hospital.
Inspired by patients who needed complex amputations following the Boston Marathon bombing and with support from the Gillian Reny Stepping Strong Center for Trauma Innovation, Dr. Carty and his collaborators reimagined the way a traditional amputation was done.
He first performed the surgery on patient Jim Ewing in 2016. Jim had fallen from a cliff while rock climbing, leaving him with severe damage to the nerves and bones in his left leg. The Ewing Amputation uniquely preserves normal signaling between the muscles and the brain. It allows using a next-generation robotic prosthesis, capable of natural movement. Patients can control the prosthetic without seeing it.
"In its uninjured state, the human body is a dynamic machine, comprised of many moving parts that function in balance and enable us to do amazing things, like running and dancing, through the coordinated interaction of our brain and our muscles," Dr. Carty explained.
"Traditional amputations disrupt this dynamic state. As a result, lower limb amputees lose the ability to finely control the muscles in their residual legs and, more importantly, lose the ability to perceive where their limb is in space without looking at it."
Pioneering research and breakthroughs in patient care
Dr. Carty's early research shows the Ewing Amputation provides better outcomes than a conventional amputation. Patients have less phantom pain and residual limb pain than other amputees. Nearly all patients' quality of life improves dramatically after the Ewing operation.
To further advance patient care, Dr. Carty is now working to reengineer the Ewing procedure for upper-limb amputees.
Paralympic training complicated by another setback
After a two-year absence from swimming, Morgan was back in the pool just weeks after her surgery. Her swim times were so stellar that she was invited to join the U.S. Paralympic training program. And best of all, she was happy again.
Morgan set her sights on Tokyo, but she soon experienced a familiar pain in her right foot. Her worst fears were realized when she learned this foot was now dying. At Brigham and Women's Hospital, doctors identified the root cause of her pain that had confounded others: Morgan had a cardiovascular condition that blocked blood flow to her lower legs. As a Brigham and Women's patient, Morgan received care from the vascular medicine team and learned her only treatment option was a second below-the-knee amputation.
Dr. Carty performed Morgan's second Ewing amputation at Brigham and Women's Faulkner Hospital in October 2019. Her recovery at Spaulding Rehabilitation Network involved intensive physical therapy. It helped her learn how to navigate life without both lower legs.
Despite years of unimaginable setbacks, Morgan returned to training with unwavering determination. Her tenacity powered her to conquer all obstacles and achieve her ultimate goal: winning gold in Tokyo.
"The Olympic Games helped me learn more about myself in the sense that I'm a lot stronger than I could've ever imagined," Morgan reflected. "I never thought I'd survive one amputation, never mind two. But here I am: not only surviving, but thriving. So no matter what you endure in life, don't let it knock you down."