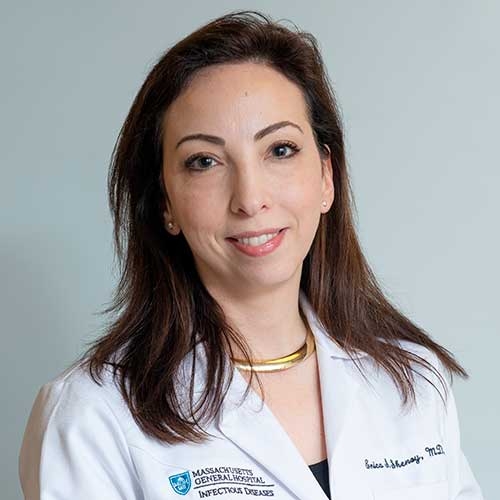 Erica Shenoy, MD, PhD, Chief of Infection Control at Mass General Brigham, has been appointed to the Healthcare Infection Control Practices Advisory Committee (HICPAC), a federal body that provides advice and guidance to the Department of Health and Human Services (DHHS) and the Centers for Disease Control and Prevention (CDC). In her role, she will join other members, including physicians, nurses, risk management personnel and more, to offer expertise on infection control practices and strategies for the surveillance, prevention, and control of healthcare-associated infections (HAIs), antimicrobial resistance, and adverse events in United States healthcare settings.
"I am honored to be selected to serve on the HICPAC," said Shenoy. "The focus on infection prevention and control has possibly never been greater during the COVID-19 pandemic, the global mpox outbreak, and surges of RSV and influenza last fall. These events, coupled with emerging evidence of pandemic-associated setbacks across the country in prevention of healthcare-associated infections, demonstrate how essential it is to have robust and resilient infection prevention and control in our healthcare systems."
This month, Mass General Brigham named Shenoy Chief of Infection Control, a new leadership role for the system. Prior to this, Shenoy was Medical Director for Infection Control. In this expanded role Shenoy will lead the integration of infection control at Mass General Brigham and is responsible for the development and implementation of infection control strategies, policies, and measurement across the system. Shenoy is an infectious diseases physician at Massachusetts General Hospital (MGH). At MGH, she cares for patients in the outpatient clinic and the inpatient consult service. She also serves as Medical Director of the Emerging Special Pathogens Treatment Center at MGH, one of 13 federally funded facilities in the U.S., dedicated to preparedness and response for emerging high consequence infectious diseases such as viral hemorrhagic fevers (e.g., Ebola, Marburg).
"We are thrilled that Erica has been selected to serve on the HICPAC. Her expertise in infection control will be a tremendous asset to this committee," said Tom Sequist, MD, MPH, Chief Medical Officer at Mass General Brigham. "In the aftermath of a global pandemic, infection prevention and control remain essential to ensuring quality healthcare delivery."