Haylee Borgstrom, MD, a Mass General Brigham Sports Medicine physiatrist, specializes in non-surgical treatments for sports injuries at both Massachusetts General Hospital and Spaulding Rehabilitation Hospital. These non-surgical treatments include diagnostics and interventions like ultrasound and regenerative medicine techniques. On top of that, she just completed her first year as a team doctor for the Boston Red Sox.
In this Q&A, Dr. Borgstrom discusses her work with the team, what it means to be a primary care doctor in sports medicine, and tips for injury prevention.
Q: You've just completed your first season working with the Red Sox. What has it been like to be a part of that medical team?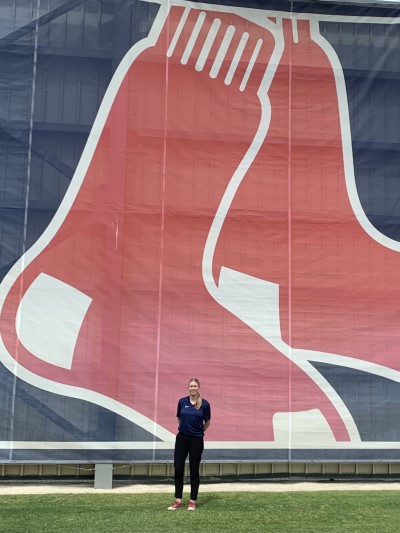 Borgstrom: It's a privilege, and it's a welcome challenge that pushes me to think about sports injuries in a different way.
I began working with the team during spring training, and I generally covered 3-4 games per month as part of the Red Sox care team. During games at Fenway Park, we provide coverage for both the Red Sox and the visiting team, alongside a talented athletic training and physical therapy (PT) staff.
There are two sides to our care team: there's the orthopedic surgery side, and the medical side—which I am a part of. Because my background is in physical medicine and rehabilitation (PM&R), with a strong background in musculoskeletal health, our medical team brings a special skill set to the care of professional athletes. We take care of primary care issues such as infections, asthma, and high blood pressure, along with any other medical emergencies or acute injuries, including concussion management for the athletes. We conduct evaluations during game time as necessary, as well as pre-game, post-game, and in the clinic.
Generally, musculoskeletal injuries are evaluated by the team orthopedic surgeons, but because of my PM&R and sports medicine background, I often take part in the evaluations and treatment planning with the athletes. It's a team effort to keep the players healthy! We also work closely with the athletic training staff on the field, and there are always EMTs present who are familiar with all emergency protocols.
Q: What are some of the most common injuries you see amongst the professional players?
Borgstrom: We see it all! In baseball, we see a lot of overuse injuries of the upper extremity and trunk, especially in pitchers. These could be acute injuries, or they could be chronic issues that athletes are actively rehabbing through the course of a season. Because throwing and swinging are such powerful movements that start from the ground up, we also see injuries of the lower extremities and hips. Running bases and fielding involves a lot of cutting, pivoting, and planting, so the players are at risk for acute ankle and knee injuries as well.
Seeing similar injuries over and over gives us a chance to really study the biomechanics of injury. This helps us understand which sports-specific movements might contribute to common injuries, and how we might be able to prevent those. Baseball is mostly a non-contact sport, but hit-by-pitch or high-speed collisions (with other players or the outfield wall) can be scary situations that we are prepared to handle.